Rogsbert F. Phillips-Reed, MD, FACS
Founder
James B. Benton, MD
Chairman
William J. Bennett, MD, PhD
Nominating
Naomi Kirkman-Bey, MD, FACEP
Secretary
Dawn Hinkle
Treasurer
Glenda Hatchett, JD
Ingrid Saunders Jones
Albert Losken, MD
William Lovett
Melinda Jolley Mortin
David Walker, Esq.
Cynthia Warwick, PhD
Karen Webster-Parks
Sandra White
Andrew J. Young
William Bennett, MD, PhD
James B. Benton, MD
Camille Davis-Williams, MD
Karen Godette, MD
Naomi Kirkman-Bey, MD
Brenda Lowery
Celia Mamby, MD
Cassandra Moore, MS
Lynda Mosley
Gabriela Oprea-Ilies, MD
Karen Pope, MBA
Bridgett Stroud
Lourdes M. Summers
Dr. Rogsbert Phillips-Reed, M.D., FACS
CEO, Metro Surgical Associates, Inc. Member, Board of Directors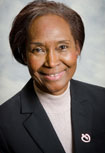 Native Georgian and Founder of SBC, Dr. Phillips-Reed received her medical degree from Columbia University School of Physicians and Surgeons in New York in 1977 and completed the Emory University Hospitals General Surgery Program in 1982. She has since practiced in metropolitan Atlanta specializing in Breast Disease. Dr. Phillips-Reed heads Metro Surgical Associates Inc., an organization which is at the forefront of breast cancer treatment and breast cancer research. She is a board-certified surgeon and a Fellow of the American College of Surgeon. Other affiliations include the American College of Surgeons, American Society of Women Surgeons, Surgical Oncology Society, Georgia Surgical Society, Medical Association of Atlanta, Atlanta Medical Association, and the American Medical Association.
President, Radiotherapy Clinic of Georgia (RCOG)
Member, Board of Directors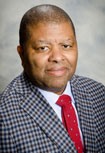 Dr. Benton is a board-certified Radiation Oncologist by the American Board of Radiology, and he believes in providing quality, personalized cancer care in a community setting, and demonstrates that commitment daily in his patient care activities.
A Magna Cum Laude graduate of Armstrong State University in Savannah, Georgia with a bachelor's degree in Chemistry and Math, Dr. Benton attended Morehouse School of Medicine, where he completed his medical degree and graduated as the Valedictorian of his class. He completed a residency in Internal Medicine at the Medical College of Virginia, and a second residency in Radiation Oncology at Emory University, where he was the Chief Resident.
Dr. Benton's love of math, physics, and science led him to radiation oncology, a specialty he admires for the depth of its technical detail and the breadth of its clinical application. Prior to joining the staff at Radiotherapy Clinics of Georgia in 1998, Dr. Benton served as Chief Resident and Assistant Professor of Radiation Oncology at Emory University. Dr. Benton is a life-time member of the Alpha Omega Alpha Medical Honor Society. This distinction is given out to only the top 5% of medical school graduates throughout the United States, and Dr. Benton has been named Atlanta's Top Doc for numerous years.
Dr. Benton practiced as a board-certified Internist for a few years before becoming a board-certified Radiation Oncologist more than 24 years ago. Currently, he is President of Radiotherapy Clinics of Georgia (RCOG), and he practices at RCOG's main campus in Decatur, specializing in treating a variety of cancers such as breast, prostate, gastrointestinal, lung, skin, and many others. He also performs a unique treatment for prostate cancer: ProstRcision. Along with other experts in the field of prostate cancer treatment, Dr. Benton has authored numerous medical research manuscripts, and his work has been published in numerous peer-review journals.
Dr. Benton is married with three children, and he is an avid reader of history and enjoys sports.
William J. Bennett, MD, PhD.
Nominating Committee Chair
Global Head, Clinical Research Scientist; Novocure, Inc. Assoc. Prof. of Clinical Research, George Washington University School of Medicine Member, Board of Directors

William Bennett is clinical and pharmaceutical science professional. He works with industry professionals to advance the key objectives in all phases of clinical trials towards the development of novel therapies, medical devices and new interventions to reduce health disparities. Dr. Bennett currently serves as a Reviewer on the Institutional Review Board at Piedmont Healthcare, and maintains active membership with the American Society of Minority Transplant Health Related Professionals (ASMTHP), the American Association of Pharmaceutical Scientist (AAPS), the International Society of Biological Environmental Repository (ISBER) and the American Association of Clinical Oncology (ASCO). A native of the West Indies, he obtained his degrees from Florida A&M University, George Washington University, Walden University, and Ross University School of Medicine. Dr. Bennett shares a passion for his work in clinical research, and the advancement of educational opportunities for minorities. He is a proud member of Alpha Phi Alpha Fraternity, Inc., where he volunteers with at risk communities, including the homeless and poor, and also mentors' young men who are on the verge of entering high school and college.
Naomi Kirkman-Bey, MD, FACE
Associate Professor, Mercer University
Member, Board of Directors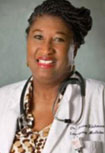 Dr. Kirkman-Bey is board certified and trained in Emergency Medicine. She practices in Atlanta, Macon, and Fitzgerald. She is a graduate of Finch University of Health Sciences, Chicago Medical School, North Chicago. Dr. Kirkman-Bey completed her residency at Henry Ford in Emergency Medicine. Among her many ventures, Dr. Kirkman-Bey is a founding member of MyEcon, Inc., marketing company and serves as an Associate Professor at Mercer University.
Member, Board of Directors
Jeanne Calloway is a retired CPA with over 28 years of leadership experience working for Major Fortune 500 companies both in the domestic US and abroad including: First Data Corporation, BellSouth Corporation, MCI/British Telecommunications, GTE, Abbott Laboratories, Bausch & Lomb, Champion
Products, and Haggar Apparel.
In her most recent role she was employed as Senior Vice President / Chief Financial Officer for the International regions of First Data Corporation. Prior to that Jeanne worked for 8 years at BellSouth in numerous management and executive roles as Assistant Vice President of Financial and Business Planning.
Throughout her career Jeanne's primary responsibilities have included corporate strategic planning, board governance, investment decision support including mergers and acquisitions, month end and management reporting, annual budgeting and operational support.
Jeanne is currently retired and holds an inactive status as a Certified Public Accountant from the state of Georgia.
Camille Davis-Williams, MD, FACOG
Member, Board of Directors

Dr. Camille Davis-Williams received her B.S. degree from Emory University and her M.D. degree and residency training in Obstetrics and Gynecology from the Emory University School of Medicine. She is board certified and a fellow of the American College of Obstetrics and Gynecology. Dr. Davis Williams is an Adjunct Associate Professor for the Emory University School of Medicine and serves as Associate Chief of Gynecology and Obstetrics at Emory University Hospital Midtown (EUHM). She provides both traditional surgery and minimally invasive surgery and serves as a proctor for Robotic Assisted GYN surgery at EUHM. Since 1987 Dr. Davis-Williams has provided healthcare for women through her private practice, Greater Atlanta Women's Healthcare. She loves Obstetrics and understands that improving the health of women directly impacts the health of our men and children.
Dr. Davis-Williams has received many citations and accolades. She is a member of the Academy of Women Achievers for the YWCA of Greater Atlanta, She has received the Physician of the Year award and coveted 2019 Nash-Carter Award, the highest honor given by the Atlanta Medical Association. She has been cited as a notable woman in Georgia's History: Pioneer in Health Care by the Secretary of the State of Georgia. She loves family time, traveling and mission work. She welcomes new patients.
Radiation Oncologist, Emory University
Member, Board of Directors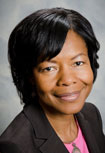 Dr. Godette is a board-certified radiation oncologist and an Associate Professor in Emory University School of Medicine and clinical member of the Winship Cancer Institute. She is the Medical Director of Radiation Oncology at Emory University Hospital Midtown. Dr. Godette is a member of the American Society of Therapeutic Radiology and Oncology, the American Society of Clinical Oncology, the Connective Tissue Oncology Society, the American Board of Radiology, and the National Medical Association, where she served as Chair of the radiology section from 2005 – 2007. Dr. Godette was presented with the Woodruff Fund Clinical Teaching Support Award in Radiation Oncology in 2002 for her commitment to teaching. She is a manuscript reviewer for The International Journal of Radiation Oncology, Biology, Physics, and the Journal of Surgical Oncology. Dr. Godette is originally from Guyana, South America. She received her Masters and Medical Degree from Howard University in Washington, D.C. Her residency in radiation oncology was completed at Columbia Presbyterian Medical Center in New York.
Marketing & Sales Professional, Urban-One, Atlanta
Member, Board of Directors
Brenda, a native Georgian, brings over 25 years of proven success in the areas of sales, marketing and management. She is experienced in selling radio in multiple formats, R&B, Hip Hop, Gospel, News Talks, Adult Contemporary, Classic Rock, Hispanic, and Sports. She has 6 years in the Automotive Industry and over 10 years in the banking industry.
Brenda joined Radio One Atlanta in 2008 as a Media Specialist. Her creative mind, strong work ethic and full commitment enabled her to achieve high levels of success within a short period of time. She is passionate about achieving success for her clients. She thrives on understanding her client's needs and helping develops plans to achieve them. Brenda's experience in sales, marketing and management has given her the ability to be a problem solver. She understands the overall goals of her clients and is able to create successful targeted integrated marketing solutions. Brenda believes that "By thought, the thing you want is brought to you, by action you receive it"
Medical Oncologist
Member, Board of Directors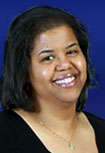 Dr. Celia Mamby is a medical oncologist with Georgia Cancer Specialist. She is board certified in Medical Oncology, Internal Medicine, Hospice, and Palliative Medicine. She received her medical degree from the Medical College of Wisconsin, and completed her residency at Henry Ford Hospital in Detroit, MI. She then completed her fellowship in hematology and oncology at the University of Wisconsin Hospital and Clinics. Her special interests are breast cancer and breast cancer in minorities. Dr. Mamby has been awarded the Minority Clinical Associate Physician Award and has twice been awarded the Minority Biomedical Program Travel Award.
Cassandra Moore, BS, MS, HT, PA(ASCP)
Senior Pathologists' Assistant, Grady Health System
Member, Board of Directors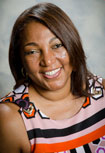 Cassandra Moore is a native of Alabama and a graduate of Tuskegee University. She earned a Master's in Healthcare Administration from Central Michigan University and maintains two ASCP certifications. She is presently employed at Grady Health System as a Pathologist Assistant. During her 32 year tenure at Grady she has worked in every division of surgical pathology and has focused on ensuring quality resulting in a large testing facility.  Her major concern has always been about those patients who are anxiously awaiting for accurate
results from their tests.
She has a large extended family and loves spending time with them. Volunteering is a passion of hers and she has worked with Habitat for Humanity. Cassandra finds joy in going to the driving range and hitting golf balls and hopes some to venture out onto the golf course.

As a 20-year breast cancer survivor, Cassandra is a strong breast cancer awareness advocate and is proud to serve on the board of Sisters by Choice.
Consultant, Pope Consulting, Inc.
Member, Board of Directors

Lynda Mosley is an Instructional Coach for the Professional Learning Department in Rockdale County Public Schools, Conyers, Georgia. During the course of her 20 year career in education, she has also served as a classroom teacher, math specialist, STEM Director and Assistant Principal. In 2005, she received Teacher of the Year for Atherton Elementary School in DeKalb County. Lynda received her bachelor's degree in Technology Management from Southern College of Technology in Marietta, Georgia. She earned her master's degree in Middle Grades Education from Mercer University, her Leadership in Education certificate from University of West Georgia, and her specialist degree from Nova Southeastern University.
Over the past five years, Lynda has served as the Volunteer Chairperson of Sister's By Choice, Inc.'s Annual 5K Pink Ribbon Walk. During her tenor, she has secured and managed hundreds of volunteers.
Lynda is married to Roderick Mosley and is the proud mother of Roderick, Lynda and Robert.
Gabriela M. Oprea-Ilies, MD
Assistant Professor, Pathology/Cytopathology, Emory University
Member, Board of Directors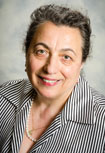 Dr. Oprea-Ilies is an Assistant Professor and Breast Pathologist with Medicine at Emory University School of Medicine. A native of Romania, Dr. Oprea-Ilies graduated with her medical degree from Tirgu-Mures Medical School in Romania in 1978. She completed her rotational internship and residency in General Practice at the Regional Hospital Brasov in Romania. Dr. Oprea-Ilies also completed a residency in Obstetrics & Gynecology at the University of Bucharest Affiliated Hospitals; She was a special fellow in Gastrointestinal and Hepatic Pathology in the Armed Forces Institute of Pathology in Washington, D.C.; Visiting Resident in Renal Pathology at the Mayo Clinic in Rochester, Minnesota; Residency in Anatomic and Clinical Pathology at Regions Hospital in St. Paul Minnesota; Residency in Anatomic and Clinical Pathology at the University of Minnesota-Minneapolis; and a Cytopathology Fellowship at Emory University School of Medicine. Dr. Oprea-Ilies is the recipient of multiple grants awarded to Winship Cancer Institute. Dr. Oprea-Ilies prides herself on being an expert on Triple negative breast cancer and is the author of dozens of publications related an array of oncologic diseases.
Consultant, Pope Consulting, Inc.
Member, Board of Directors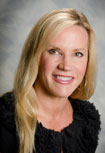 In 2003 Karen started her own firm, Pope Consulting, as a contract lobbyist and has created an impressive list of clients. Prior to that in 2000, she served as senior governmental affairs representative for Georgia EMC and its family of companies, representing the businesses before the General Assembly. From 1991 to 1999, Karen Pope worked for BFI Waste Systems. Karen's community involvement includes extensive work with the Georgia Chamber of Commerce. She chaired the Economic Development, Taxes and Tourism Committee of the Chamber's Government Affairs Council for four years. She co-chaired the Atlanta Ronald McDonald House's Annual Fundraiser, which supports the entire operating budget of the two Atlanta-area houses. Karen received a Bachelor's of Science Degree from the University of Georgia where she helped restart the student government association and was elected campus-wide. She received the prestigious Malanos Award in her Masters of Business Administration from Georgia State University.
Assistant Director, Emory Healthcare Inc.
Member, Board of Directors

Bridgett Stroud is a native of Houston, Texas. She has a Bachelor of Science degree in Exercise Science from Georgia State University. She has a Bachelor of Science in Nursing degree from Clayton State University and a Master of Science in Nursing Leadership and Administration from Emory University. Currently, she works full time for Emory Healthcare of Atlanta where she has been for 20 years. She has experience in Oncology and Nursing administration. Bridgett has certifications from Oncology Nursing Society and American Nursing Credentialing Center. She is a member of the Oncology Nursing Society where she became a founding member of The Southern Crescent committee. Bridgett is a proud member of Chi Eta Phi, Incorporated where she serves as chair for the Cancer Prevention and Screening Committee and she is also a member Delta Sigma Theta, Incorporated where she serves as member of the Physical and Mental health committee and elections committee. She is member of Emmanuel Community Church where she serves on the First Response Committee.
Bridgett is a breast cancer survivor. She participates in many health fairs to help raise awareness of breast cancer in women and men. For the past 5 years, Bridgette has advocated for nurses of Chi Eta Phi, Incorporated to volunteer with medical team at Sisters By Choice Annual Pink Ribbon Walk.
CEO/Owner, Madrid Group, Inc.,
Developer of Pollo Campero Restaurants
Member, Board of Directors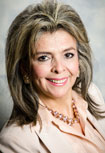 Mrs. Lourdes Mavel Summers is a native of the Republic of Honduras. She received her degree from the National University of Honduras (UNAH) in Industrial Engineering in 1990. Mrs. Summers was appointed by President Maduro as Concielar to Honduras Consulate in Atlanta, GA in 2001, and by President Mel Zelaya as Honorary Consul to Atlanta GA as Diplomat credentialed by the U.S. State Department in 2007. Mrs. Summers years of experience in industrial engineering includes diagnostics skills in distribution of processes of production, time and movements; Engineering of methods – a study of quality systems and improvement; Organizational diagnostics and improvement of a preventive maintenance of industries; and evaluation of investments projects in areas of marketing, production and finance. Currently, Mrs. Summers serves as Honorary Consul-Republic of Honduras to Atlanta, GA and is the CEO/Owner of the Madrid Group, Inc.