Sisters By Choice (SBC) was founded in 1989 by Dr. Rogsbert F. Phillips-Reed, a prominent Atlanta-based breast surgeon, SBC has evolved into a multi-faceted organization providing services for uninsured, under served women and men.
Dr. Rogsbert Phillips-Reed, M.D., FACS
A native Georgian, Dr. Rogsbert F. Phillips-Reed is a general surgeon and Fellow of the American College of Surgeons specializing in breast surgery. She graduated from Columbia University School of Physicians and Surgeons in 1977 and in 1982 became the second woman and first African-American woman to successfully complete Emory University's Surgical Program.
Dr. Phillips-Reed heads Metro Surgical Associates, a community-based surgical practice with offices in downtown Atlanta and Lithonia, Georgia. For 30 years, she has practiced medicine in the metropolitan Atlanta area, serving a diverse patient population. A pioneering physician, she remains at the forefront of breast cancer research and has participated in many clinical trials which have impacted how we treat breast cancer today.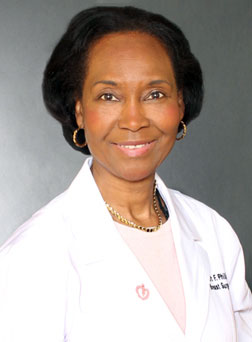 Awards and accolades aside, she is widely known for her excellent patient care, and she is committed to community service and is passionate about her work in the fight against breast cancer.
Dr. Phillips-Reed has received more than 60 awards and honors recognizing her professional excellence and reputation as a first-rate physician, including The American Society of Breast Surgeons Arnold P. Gold Foundation "Humanism in Medicine Award", Atlanta Medical Association's "Physician of the Year Award", the American Association for Access Equity and Diversity "Rosa Parks Award", Atlanta Business League's "Women's Hall of Fame", The Black Women's Agenda in Washington, DC's, honoree in health,  as well as being recognized by the Georgia House of Representatives, the Georgia Senate and Secretary of State's offices.
Dr. Phillips-Reed saw the need for programs that would increase public knowledge and awareness of breast cancer to reduce the mortality and morbidity of the disease. In 1989 she founded Sisters By Choice. Initially formed as a support group for women diagnosed with breast cancer and their families, SBC has evolved into a multi-faceted organization serving women in Georgia.
Realizing there are health disparities surrounding access to quality breast care in rural Georgia, Dr. Phillips-Reed has started an initiative to address this disparity by developing a Mobile Breast Clinic. This unique mobile breast clinic will facilitate remote screening and diagnostic services. It will provide screenings, diagnostic services, treatment referrals, education and access to clinical trials to medically underserved men and women in rural and urban Georgia. This complete diagnostic care will make our clinic historic. It is the first of its kind in Georgia, and among the first in the nation.
Dr. Phillips-Reed has served on several community service boards, various healthcare committees, and she is actively involved in clinical trials and research projects. Her professional affiliations include the American College of Surgeons, American Medical Association, and Association of Women Surgeons, Society of Surgical Oncology, Georgia Surgical Society, Medical Association of Georgia, American Society of Breast Surgeons, National Medical Association, Atlanta Medical Associates and the Medical Association of Atlanta.