The Pink Ribbon 5K Run / Walk

The Pink Ribbon Walk sponsored by Sisters by Choice is held annually at Piedmont Park in Atlanta, Georgia.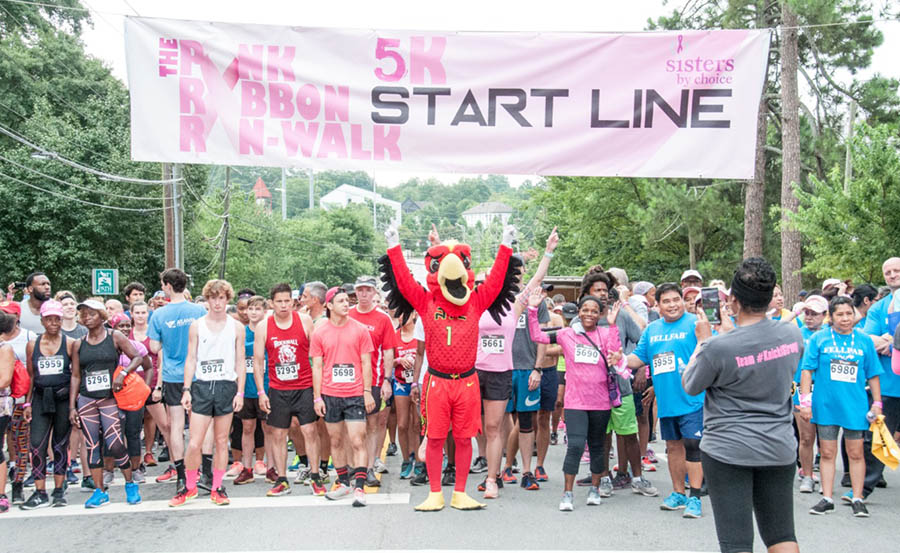 Sisters by Choice (SBC) is hosting its annual Pink Ribbon 5K Run-Walk to address the disparities surrounding breast cancer.
This 5K run-walk was started in 2005 and has grown tremendously over the years. All proceeds from the race will go towards helping with the funding of SBC's Mobile Breast Clinic. This mobile breast clinic will travel throughout the state of Georgia to help medically underserved men and women gain access to quality breast care.
The 19th Pink Ribbon 5K Run-Walk
7:00 AM REGISTRATION - 8:30 AM START
Your participation in our annual 5K run/walk makes a powerful impact by servicing the under-served through our Mobile Breast Clinic.
The Pink Ribbon 5k Run/Walk will hold our 19th Annual Sisters by Choice (SBC) fundraising event. You will have the option of participating IN PERSON or VIRTUALLY.
In person participation will be at Piedmont Park on Saturday, July 15th starting at 8:30 am. Virtual participation can be conduct at YOUR own location between July 15th and July 17th.
100% of the proceeds from the event will still go towards the operational cost of Sisters by Choice Mobile Breast Clinic. Sisters By Choice has been on the forefront of addressing disparity surrounding breast cancer. Each year, we provide at least 1,000 free breast health services that include mammograms, breast exams, breast biopsies, and sonograms, to uninsured, underinsured, and homeless women and men. Please come JOIN US!!
You can join individually, or  one of the existing teams or become a Team Captain starting one of your own. As a Team Captain, you are not only making a difference, but you are also inspiring and challenging others to join in the battle to help eradicate breast cancer.
Dates to Remember
Event Day Schedule
Dates to Remember
| | |
| --- | --- |
| March 12 | Online registration opens for the 18th Annual Pink Ribbon 5k Run/Walk |
| June 15 | Early Bird registration $40 fee ends |
| June 16 | Registration fee $45 begins |
| July 10 | Pink Ribbon 5k Run/Walk Kick Off via Social Media (Facebook & Instagram) |
| July 14 | Virtual Pink Ribbon 5k Run/Walk start |
| July 15 | In Person Pink Ribbon 5k Run/Walk |
| July 16 | Virtual Pink Ribbon 5k Run/Walk ends |
Event Day Schedule
In-Person 5K Run/Walk Protocol
Race check in will begin at 7:00am
All in attendance are expected to comply with the following policies.  Sisters By Choice reserves the right to ask any attendee to leave the venue should they not comply

Scheduled start time, 50 runners per wave, every 5 minutes
Mask worn at all times (including warmup) but can be removed while participating in the event but must be put back on immediately after crossing the finish line
Temperature checks upon entering the venue
Hydration will be provided
Social distancing of 6 feet practiced throughout the venue

Race warm-up will begin at 8:00am
Race will start at 8:30am
T-Shirts will be distributed day of the event to IN PERSON participants and mailed to VIRTUAL participants.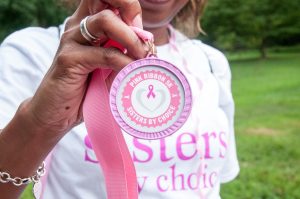 The FIRST 500 people to cross the FINISH LINE will receive a medal.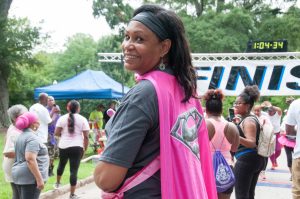 Virtual participants are equally as important in helping us to fight against breast cancer.
Virtual 5K Run/Walk Guidelines
Once registered, you will receive a registration confirmation email.
Virtual run/walk in a safe social distance on July 15th.
Use a running/walking tracking app via smartphone or a smartwatch to track your progress while on your run/walk July 15th – July 17th. Some popular tracking apps are Runkeeper, Map My Run, and Strava. Take a screenshot of your distance and finish time once you complete the run/walk.

Trek Around A Track 12.5 times ~5k
5,500 Steps ~ 5k

Add Once you have completed your 5k, use the following links to upload results:

How to Submit/Manage your results:  

https://help.runsignup.com/support/solutions/articles/17000087349-submit-and-manage-virtual-results

https://runsignup.com/Race/RegistrationLookup/?raceId=126347&renderMode=results_mode

Upload a photo of your results to show proof of your finish time. The photo can be:
Screenshot of your preferred tracking app via smartphone, or smart watch
Photo of your smartwatch displaying your results
Upload photos of you and/or your team to Facebook, Instagram and Twitter using the hashtag #PRRW2022 and #PinkRibbonRunWalk2022
We highly recommend taking Marta for the Walk.
The parking garage is in the center of the park, and is great for visitors, especially those on their first visit. The Park shares a parking deck with the Atlanta Botanical Garden and the rate is typically based on the amount of time you spend in the park. Piedmont Park access is on the lowest floor.
Address to Parking Garage:
1320 Monroe Drive, Atlanta, GA 30306
The garage is off of Monroe Drive on Worchester Drive, or visitors can enter off Piedmont Avenue at the Atlanta Botanical Garden entrance. The park is accessed from the lowest floor.
Take 10th Street towards Peachtree Street and continue on 10th until you reach Piedmont Ave. turn left on to Piedmont Avenue and walk two blocks to the 12th and 14th Street gates of Piedmont Park; or you can continue walking on 10th street entry and the Park will soon be on your left side.
From the ARTS CENTER STATION
Head south on West Peachtree Street for one block; turn left onto 14th Street for three blocks until you reach the 14th Street entrance to the Park; cross the park to the 10th Street gate entrance.
Parking is available in the Sage parking facility, Colony Square garage, and a private parking lot at the corner of Juniper and 10th street.
Parking fees vary starting from $ 0.75/first 16-30 minutes then $1.00 for ea. additional 30 minutes up to $15 for Sage to a flat rate of $11 and $5, respectively. Parking on the streets surrounding the park is limited—please observe posted parking signs. SBC is not responsible for parking violations, tickets, or towing charges.
Note: there is a height limit on large trucks at Colony Square.